My Lil Rose in Velvet #501
This nylon and velvet collar is 3/8" wide. It has beautiful crystals in gold colored settings with a fabric gold trimmed rose in the middle. These collars all have a metal tongue buckle and D ring. The flower is on top of the neck, the buckle & D ring at bottom of the neck. There are 5 color choices.


21.95 and Up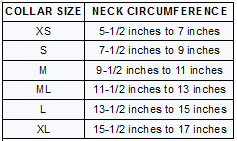 Click to view all sizes and measuring instructions.